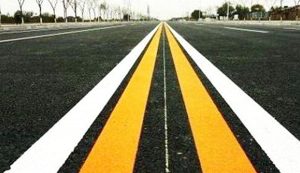 Thermoplastic road marking paint, also called hot melt marking paint, is a kind of powder paint. When applied as road surface markings, a hot melt kettle is used to heat it to 200 °C (392 °F), after which it is sprayed on the road surface. The coating then becomes a line after cooling. This paint is thick coating, wear-resisting, bright and reflective. In recent years, practical applications have proved that the marking lines lack certain surface roughness and can easily cause wheel slip, resulting in a traffic accident in snow and rainy weather.
Therefore, some countries once restricted the use of this paint. In order to increase the antiskid performance of the line, thermoplastic paint has added reflective glass beads. Thermoplastic can be used very effectively for large Anti-skid areas on roads and pedestrian walkways by adding glass beads. It can be produced in any colour and is great for car parks, factory walkways and many other areas. It's fast drying and can be driven over after just a few minutes.
Thermoplastic materials are available in white and yellow colours. We can also provide other colours for special projects as per requirements.We also provide glass beads from SWARCO which are required for provide reflective properties to road markings.
Specifications of Thermoplastic Road Marking Material